Greetings from a very hot sunny Spain folks! 
I usually call this a summer update. Sharing stories from the road in what would normally be, a busy period in my work calendar. 
First of all, I hope your all safe and well. 
2020 for all of us has been a strange year. Some of us have lost family and friends due to the Covid-19 virus. Our lives have certainly changed forever or at least until a vaccine is found. 
I'm also sure that 2020 will remain in our memories for a long-long time. 
Anyways . . . . . . What have I been up to? 
Well to be totally honest, not a great deal. 
I have been playing a lot of acoustic guitar as well as singing loads of songs that I have learned. 
Playing as a solo acoustic/singer is something I plan to do in the future; so basically, I've gone and got the ball rolling by learning more that 35 songs . . . . . I've really enjoyed making arrangements for those songs and playing them in a way that I can put my own stamp on the way they are performed. 
I've been doing a lot of cycling whilst in Spain, clocking up 300 miles a week give or take. 
Can you believe I even lost a bit of weight . . . . . although I'm surprised I haven't lost more considering the heat we have been riding in! 
If any of you are on Strava, you can follow my rides, I may even follow you back!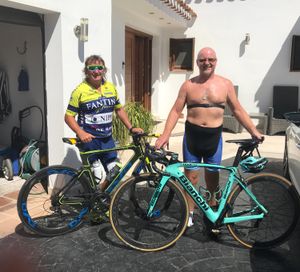 One thing I haven't missed, is all the traveling that I would normally do. 
I'm not sure when Smokie will work again, but I would be surprised to do any concerts before the end of this year? I rather suspect, it we may well be into 2021 before any live concerts kick off again? 
I miss playing live and remember, this is my livelihood and how I earn my living, so it's easy to see how times can soon get tough, when no money is coming in and savings end up taking a real bashing. 
Social Media 
Just recently, I have unfriended quite a few folks on Facebook. 
Now let me explain something, there is no one more tolerant than myself. I take great pride in allowing anyone to have a difference of opinion to me and I always show them the respect that they deserve whether or not their opinion is the same as mine and regardless of what that might be? 
However; some of us, seem to be a bunch of all-day long moaners! 
I don't care who you vote for! 
I don't care whether or not you are a Brexiteer or a Remainer 
I don't care If you don't like Boris Johnson 
What I do care about though is, the venom that some people like to include in their Facebook posts! . . . . . . I like positivity in my life! 
I like to express an opinion sometimes without being selected for ridicule and I expect to give the same back and allow a discussion to be fair and without prejudice (That can't be said about many of my so-called Facebook friends) 
So with that in mind . . . . . I unfriended some of the people who create bad vibes! 
Facebook also has a marketplace section where we can sell goods . . . 
It really does sadden me to see so many musicians selling their beloved instruments to make ends meet. These are the tools of their trade and when things get back to normal, many a guitarist I'm sure, will be using a far inferior instrument to what they had before! 
Leeds United 
My beloved Leeds got promoted to the Premier League . . . . . Yay!!! 
I celebrated let me tell you! . . . . I've waited 16 long years for the day we got back to the promised land. 
I shall look forward to the new season. Leeds play Liverpool the current champions in their first game . . . . "Bring on the Scousers"!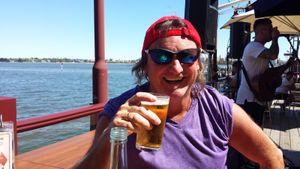 Stay safe folks, be positive . . . . and remember, someone, somewhere is probably in a far worse position than you are!